Jessica Joy Arnold Memorial Scholarship
Jessica Joy Arnold, or Jessie as friends and family knew her, was an outgoing farm girl with a quick wit and happy-go-lucky personality. She loved being outdoors with her horses, riding mini-bike, or playing basketball. She also excelled in the classroom and always went out of her way to help others and make the people around her happy.
In memory and in honor of Jessie, Jessie's family established this scholarship fund to provide assistance to high school seniors who attend the schools listed in the application (go to Application tab) and who have some of the same characteristics and enjoy some of the same activities as Jessie did.
Leadership: Jessie showed leadership in equestrian activities, 4-H, on and off the basketball court, and provided support for friends and family and others in need.
Academics: With an inquisitive nature and natural intelligence, Jessie consistently excelled in school.
Community Service: Jessie was heavily involved in equestrian activities and 4-H where she volunteered at horse shows.
People Orientation: With an interest in people of whatever background and whatever age, a caring personality and curiosity about others, Jessie was always there to provide support when it was needed and friendship that could be relied on.
If you are interested and believe that you share these characteristics, we encourage you to complete an application. The scholarship application is found under the Application tab on this website. In order to qualify, among other things, you:
Must be a senior at one of the high schools listed in the scholarship application.
Have a successful high school academic and
Be accepted at a university or college.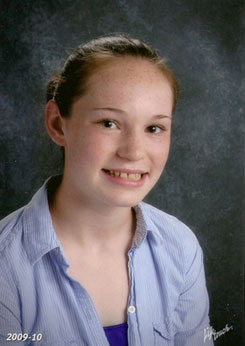 October 29th, 1995 - August 25th, 2009
To learn about prior scholarship recipients, please visit the Recipients tab.
Thank you for your interest in the Jessica Joy Arnold Memorial Scholarship.